I hope everyone doesn't mind my first post being a request for assistance/interpretation of results.
I've been using testmy.net for a while now and always had accurate results.
All of a sudden, however, I'm getting some bizarre results.
My ISP, of course, has been helpless.
I'll save the editorial and just post up the data.
This all started late last week. I randomly ran a speed test and noticed that my speed was way off from where it normally is.
Here's a shot of what I'm used to seeing: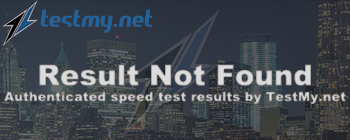 Here's a recent test result from testmy.net: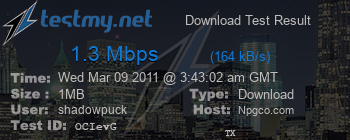 Even allowing for time of day/network congestion, that seems way off.
Another testing site (speedtest.net) going to Dallas.
Again, another recent test on testmy.net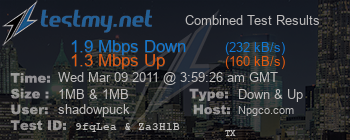 The results seem to be rather erratic.
Just for comparison, since I also have a DSL connection, I tested it.
testmy.net - a few moments ago: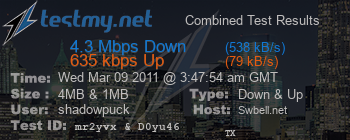 The results with my DSL connection are almost identical no matter what test site/location I use.
Do I simply have to live with the fluctuation on the cable modem? Anything I can do? Should I call my ISP again and ask them for assistance?