I have been visiting this website for many years now. Up until recently it has done well serving me by telling my what speed I am downloading at.
I haven't had the need to test my speed until recently I upgraded to a faster speed. I was connected at 12mpbs down and 1mbps up. I know it's not the greatest but I managed. Now my new connection speed is 60mbps down and 5 mpbs up. Here are my results.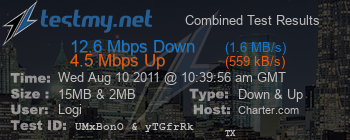 Agian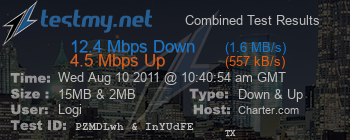 This is a speedtest.net test.
Yes, I know it's still not 60mbps, but if i go into safe mode it gets 60mbps. Not with testmy.net and
i have Charter Communications as my ISP. This is no where near what I am getting, there is a problem somewhere.