Here's another test, this time using the maximum size of 200MB: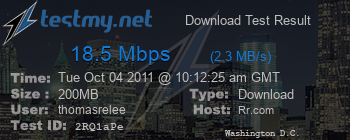 SWEET!
I do not know if me being close to DC has any effect, but who cares. I'll take excellent results anytime!!!
TWC Road Runner peers in Herdon, VA, so at least it has a small trip to DC from there and I can see their peering agreement seems to work out nicely when it comes to most services run out of DC and surrounding areas.