You can now test your internet speed against TestMy's Amsterdam, Netherlands server.
Visit
http://eu.testmy.net
to change your default server to Amsterdam, Netherlands and give it a try.
Here's my score... all the way from Phoenix, Arizona ... about 5400 miles away.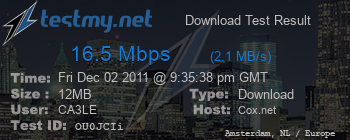 Enjoy!
A little more information...
Our most popular visiting European countries are... United Kingdom, Romania, Poland, Italy, Germany, Greece, France, Serbia, Netherlands, Russia, Ukraine, Spain, Finland, Ireland, Sweden, Belgium, Bulgaria, Hungary, Croatia, Norway, Portugal, Denmark, Switzerland, Macedonia [FYROM], Albania

Our most popular visiting Asian / Middle Eastern countries are... India, Philippines, Lebanon, Iraq, Indonesia, Malaysia, Pakistan, Saudi Arabia, Bangladesh, Iran, Israel, United Arab Emirates, Jordan, Singapore, China, Japan, Hong Kong, Thailand, Turkey, South Korea, Sri Lanka, Vietnam, Syria, Kuwait, Nepal

Our most popular visiting African countries are...South Africa, Nigeria, Egypt, Kenya, Tanzania, Cameroon, Zimbabwe, Côte d'Ivoire, Mauritius, Libya, Ghana, Rwanda, Algeria, Morocco, Uganda, Tunisia, Sudan, Seychelles, Congo [DRC], Zambia, Namibia, Ethiopia, Botswana, Senegal, Burundi

Any European, Asian, Middle Eastern or African countries scores will benefit from using this server. But remember, our Texas server is still the benchmark.