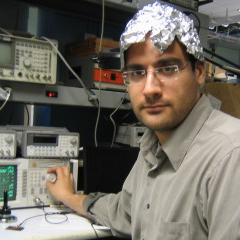 ---
Similar Content

By mudmanc4

So I get the call from a client yesterday, " hey, were moving in our new house in 30 days, I need you to get my network up"
 
WHATT ? lol Wait , you built a new house call me after the drywall is up carpets laid, just putting finishing touches on your new 3000++sqft home and say this.
 
Nothing pulled in the wall network wise. He says "hey it's all wireless now man" -- UHHG
 
You long timers here should know I'm not a huge fan of relying on wireless in this fashion , maybe that's it , I was born before cell phones turning on kitchen fawcets and living the mobile communications life. I can dig it , just enjoy the what I percieve as benefits of a solid core cat6-plenum running through my walls. All routed back to a switch next to your firewall appliance. Put those wireless repeaters wherever they're needed.
 
So I have Sonos, Apple Time capsule, iHome system, half dozen wireless HD TV's, and well pretty much anything else you can think of wireless that does - well anything when you're not standing in front of it. Including CCTV - DVR remote acess - ect ect ect -
 
And much less than 30 days to get the topology drawn up installed and configured. Freaking love a challenge like this. Should be rather simple , then again nothing truly is.